True wireless earbuds were everwhere in 2020, and more and more manufacturers are adding active noise-cancelling (ANC) to their products. The list of true wireless earbuds with proper ANC technology onboard is still relatively short, but here are the best pairs you can buy today.
Shortcuts:
| | |
| --- | --- |
| Rating | |
Pros

Sober and serious design
Sound crushes competition
Complete controls
Good, but not great, battery life

Cons

No wireless recharging
The ANC falls short of the competition
Rigidity in EQ
High price
Fans of the legendary German audio brand have been waiting for Sennheiser to dive into the true wireless earbuds with ANC market, and the wait is over. Available since April 2020, our very own Antoine was not disappointed when he reviewed them. The build quality is just as good as we have come to expect from this brand, and feature-wise all boxes are ticked here.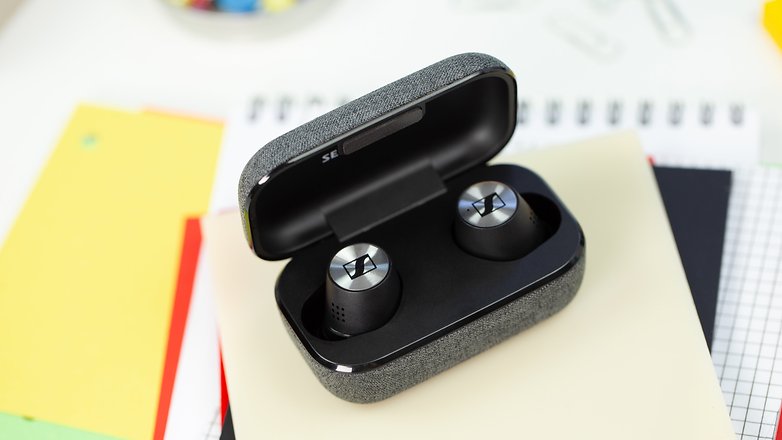 The Sennheiser Momentum True Wireless 2 IPX4, support three high-def audio codecs (although sadly not aptX HD) and sound fantastic. They come in a rather nice carry case covered in fabric and there's a handy smart control app to give you more power over the earbuds' behaviour when listening. They are pricey, but you often get what you pay for in this business.
Key facts:
Audio codec: SBC, AAC, and aptX
Battery Life: 28 hours (7 hours in the earbuds, 21 hours in the carry case)
| | |
| --- | --- |
| Rating | |
Pros

Active noise-cancelling
Very good battery life
Sound quality
Sony app
Price

Cons

No wireless charging
No waterproofing
Disappointing hands-free car kit
No volume control commands
Sony's over-ear ANC headphones are market leaders, and noise reduction is one of the brand's main strengths. It was quite exciting, then, when Sony decided to bring ANC to its true wireless earbuds range. Don't be expecting comparable ANC on the WF-1000XM3 to the WH-1000XM3, but for true wireless earbuds, the former do a good job of reducing ambient sounds around you.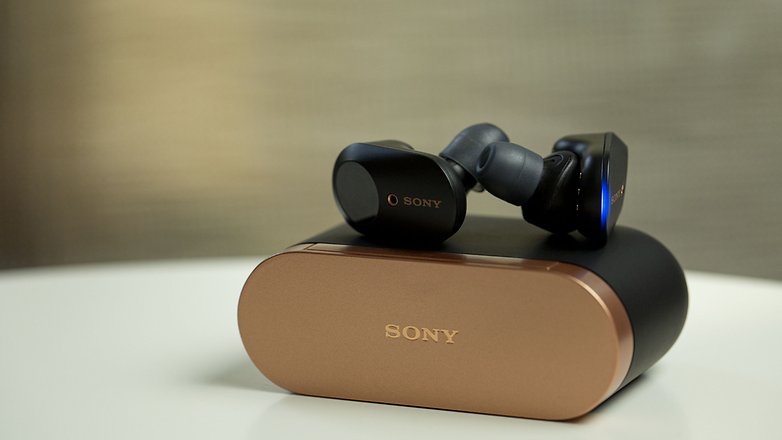 The design will not be for everyone, especially those who favour sleek earbuds or who long for an AirPods-style stem design. They're also reasonable weighty at 8.5 grams compared to something like the Libratone Track Air+. Yet, the QN1e chip in these, a miniaturized version of the QN1 chip found in the over-ear big brothers, makes these the best true wireless earbuds on the market in terms of the quality of the ANC.
Key facts:
Audio codec: SBC and AAC
Battery Life: 24 hours (6 hours in the earbuds, 18 hours in the carry case)
| | |
| --- | --- |
| Rating | |
Pros

Very good fit
Good sound
Very good active noise suppression
Very good integration with iOS
Compact charging case

Cons

Only basic functions outside of the Apple Ecosystem
Missing volume control
Average battery life
It is safe to say that the Apple AirPods Pro are already a huge hit with consumers. Apple addressed a lot of things fans of the product were calling for with the latest iteration of the infamous white earbuds, adding ANC among other new features.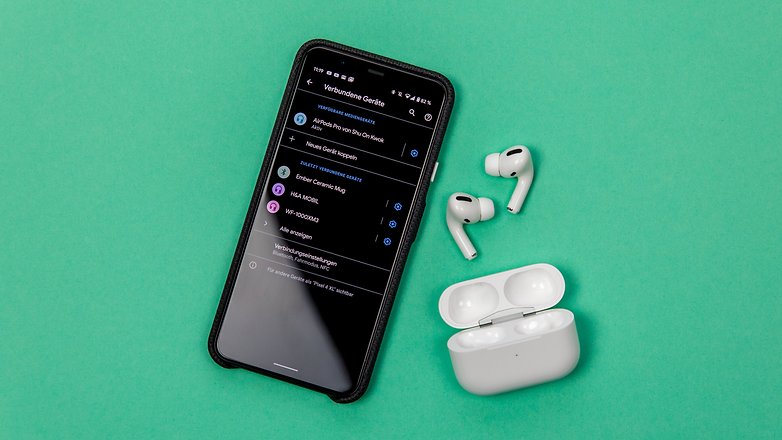 The design and build quality will be familiar to most, but Apple has now added a ventilation duct to prevent that unpleasant feeling of pressure in your ears that you can sometimes get with in-ear headphones. An outer microphone now captures ambient noise and the inner microphone is used to dynamically adjust the sound. Apple says that the sound image can be adjusted up to 200 times in one second, and as a result the active noise cancellation is successful. The AirPods Pro's H1 chip is a huge advantage for iPhone and Mac users when it comes to quick pairing and connection stability too. If you are an Apple user, you really don't need to look past these, and few hardcore fans of the Cupertino brand will.
Key facts:
Audio codec: AAC
Battery Life: 24 hours (4.5 hours in the earbuds, 19.5 hours in the carry case)
| | |
| --- | --- |
| Rating | |
Pros

Original and ergonomic design
Solid battery life
Good microphone call quality
Comprehensive companion application

Cons

Spotty ANC performance
Disappointing and inaccurate audio rendering
Not the best option at this price
Samsung shocked us all when the Galaxy Buds Live first leaked. We are still upset that these did not end up being called the Samsung Galaxy Beans, thanks to their unique design, but the Buds Live remain one of the best pairs of true wireless earbuds with ANC available on the market today.
Whilst the Samsung Galaxy Buds Live do not excel in any one particular area – the ANC is fine but not amazing, they sound quality is good but not great, the battery life is fine but not the longest on this list, etc. – the one thing you can't deny is the fashion statement you are making when you opt for these earbuds over the competition. In terms of design, the Galaxy Buds Live are kind of out on their own, and that could be the tipping point for many.
Key facts:
Audio codec: AAC and SBC
Battery Life: 29 hours (8 hours in the earbuds, 21 hours in the carry case)
| | |
| --- | --- |
| Rating | |
Pros

Good ANC
Fantastic bass performance that is not too heavy
Excellent battery life
Comfortable design
Can be connected to two devices simultaneously

Cons

Huawei AI app needs working on
No iOS app
Poor call quality
If you are looking for long battery life from your paid of active noise-cancelling true wireless earbuds, then the Huawei FreeBuds Pro are certainly worth a look. The design is very Apple AirPods-like, but the FreeBuds Pro have smaller, square stems and are available in black – something Apple does not offer.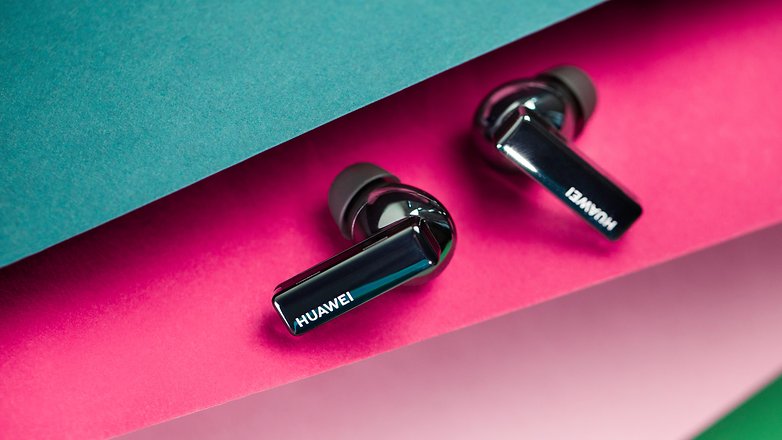 The lack of a high-end audio codec is a shame, but for most people, these will still sound more than good enough for listening to music on the go and watching YouTube videos etc. Battery life is one of the main advantages of the Huawei TWS earbuds, with the total run time coming in at up to 30 hours.
Key facts:
Audio codec: AAC and SBC
Battery Life: 30 hours (7 hours in the earbuds, 23 hours in the carry case)
| | |
| --- | --- |
| Rating | |
Pros

Very comfortable
Secure fit
Good sound
Effective ANC with dynamic adjustment

Cons

Touch input limited to two functions
Wearer recognition in need of improvement
Libratone has built a strong reputation amongst those who report on the mobile industry and the Track Air+ could be seen as the brand's biggest innovation. When we reviewed these back at the end of 2019, our man Shu thought they were better than Apple's AirPods.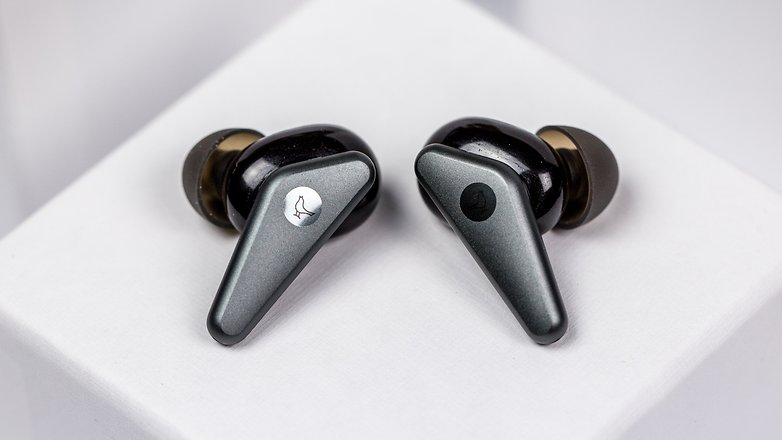 The design is all about wearing comfort, and at 5.6 grams per earbud, the Libratone Track Air+ are very lightweight. They also come with IPX4 certification against water damage. Most of all, though, it's the clever ANC that impressed us. Not only do you get active noise cancellation, but the microphones in the earbuds can also be used to bypass passive noise reduction, meaning that a double-tap on the touch-field and your music disappears discreetly and you can perceive your surroundings again.
Key facts:
Audio codec: AAC and aptX
Battery Life: 24 hours (6 hours in the earbuds, 18 hours in the carry case)
True wireless earbuds with active noise cancellation don't have to cost a fortune. The budget pick on our list comes from the Chinese brand, Mobvoi. We've been impressed with the true wireless efforts from this company over the last couple of years, and the Ticpods 2 Pro offer an affordable way to get into ANC on your true wireless earbuds.
In terms of ANC, the Ticpods 2 Pro feature dual-mic noise cancellation sensors on both earbuds They're also great for calls, as the mics focus on your voice and tunes out ambient noise. There are no rubber tips on these though, so you won't benefit from any passive noise cancellation as you would with some other in-ear headphone designs.
Key facts:
Audio codec: aptX, AAC, and SBC
Battery Life: 24 hours (4 hours in the earbuds, 20 hours in the carry case)
What are your favourite true wireless earbuds with active noise cancellation? Share your tips in the comments section below.
Read more on NextPit: